Action-Army Reveal The Assassin AAP-01 Pistol
Action-Army have been teasing players with the reveal of their very first gas blowback pistol – the Action Army AAP-01 Assassin.
With only a few weeks until IWA, it has been announced that we can expect to see the Assassin released and in stores by the end of April.
So, what is the AAP-01 Assassin? Well, from looking at it you'd notice it's very similar to the Rugar MK IV, but it's got some additional custom features, making it look more modernised.
Action-Army are also developing this pistol with a wide range of accessories available on release. More on that shortly.
Who are Action-Army?
Action Army Company was founded in Taiwan in 2010. At the time they were heavily focused on creating high quality parts, especially for bolt action sniper rifles, where their hop unit became a necessary upgrade part.
Since 2018 though, their focus went beyond parts and machining for other brands. They began work on their first sniper rifle – the AAC T10 and T11 series.
These were released in 2019, and while were reviewed well, didn't overly take off in the UK, especially as we were on the back heels of the ARES Striker.
Then, at the end of 2019 we saw the first photos of the AAP-01 GBB Pistol by Polish news site WMASG.
Now, lets take a look at what we know so far.
AAP-01 Externals:
Starting with the body, it's made of nylon fibre (polymer) and while it is a gas blowback, the top slide is in a fixed position. What's unique about this pistol, the bolt which does move between shots, extends beyond the rear of the pistol, past the frame.
In airsoft, we've never seen a bolt designed like it. Check it out below.
Moving onto external features, we have an ambidextrous magazine release on the grips, and a safety above the trigger.
Finally, did I mention this pistol can be fully automatic? Oh yes, on the underneath of the bolt is a little switch to go come conservative, to full blatttt.
Now I know what you're saying, why would you want fully automatic on a pistol with such a limited magazine? Well, this is when we look at some of the accessories.
Firstly, pistol magazines. The AAP01 Assassin uses standard Glock 17 variations, and most known brands do fit. This means you could use that 50 round extended magazine, or better yet – the WE drum mag.
Insane!
Beyond the magazines, there are also a wide range of options for accessaries such as a Suppressor, or tracer unit (14mm CCW), a variety of rear mounted sights, low and high profile fixed sights and an additional piccatiny rail for small pistol torches.
Seriously, this pistol could be a real contender to run as a primary weapon.
The only thing missing would be a stock, oh wait!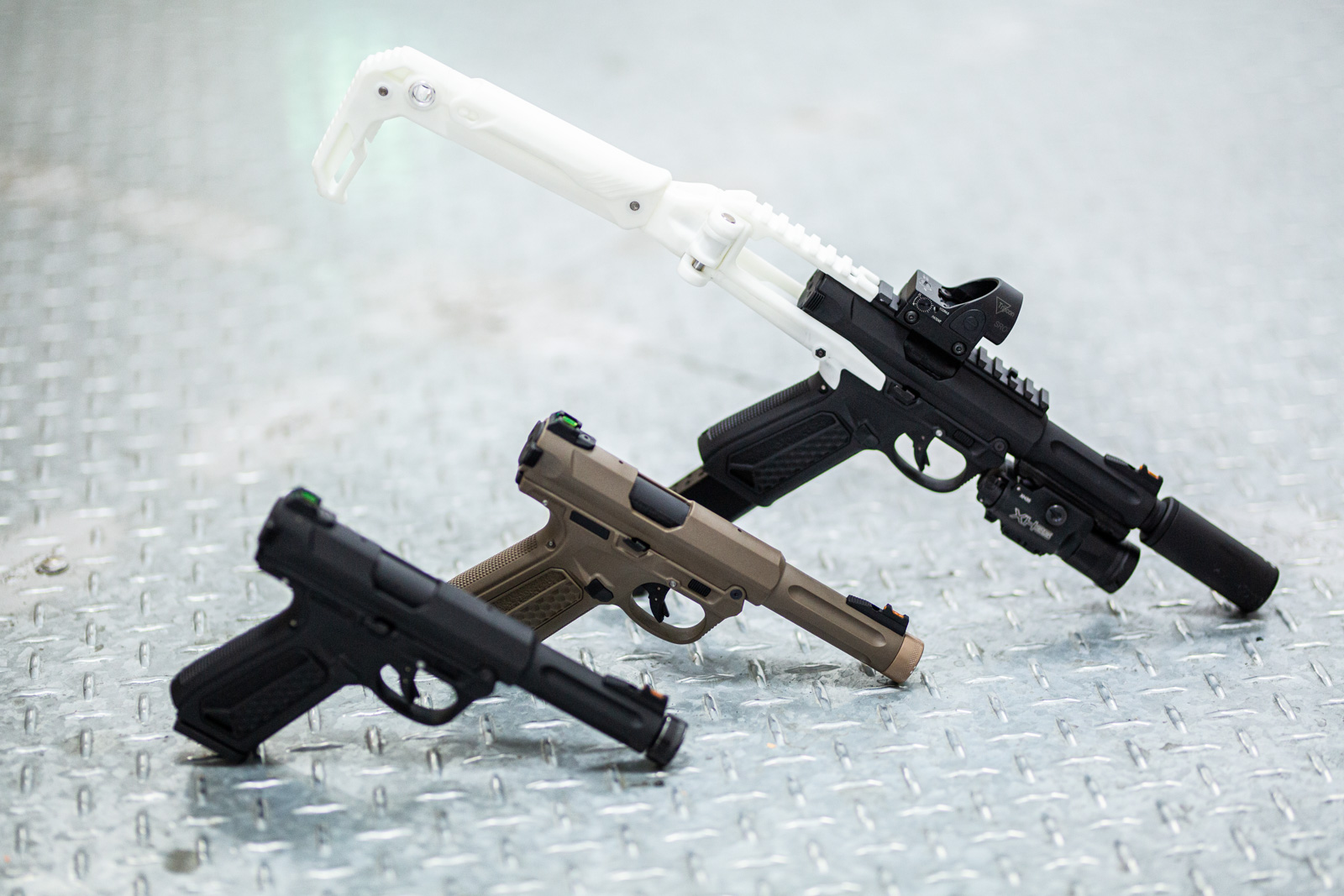 Whether this is ready for production or not, time will tell.
AAP-01 Internals:
Externally it's looking awesome, but what about performance and quality of internals?
Well, given how Action-Army are known for their internals – I'm very hopeful that this will be a great performing pistol.
Much like the real .22 Rugar MK IV, the teardown is going to be possible in seconds and what you'll find is a metal bolt and all the expected reinforced trigger assembly.
The nozzle will be plastic, presumably to be the first point of failure when you open up in extreme weathers.
As with 'upgrading', the pistol uses VSR style buckings and a traditional GBB barrel, giving you plenty of choice depending on your hop/barrel combination preference.
Power wise, the chrono results are still vague but green gas is said to be site friendly in the UK. However, CO2 magazines are running too powerful – however Action-Army have said they will be working to resolve this and make it a viable option for the airsoft community.
Conclusion:
All in all, an exciting pistol to be released in 2020. While not completely faithful to the Rugar enthusiasts, I feel it's definitely going to get a lot of interest in the UK provided the performance is decent and the price isn't ridiculous.
Action-Army, although not produced a GBB before, are a safe brand to trust – both in quality and after care support. For me, this pistol has made Action-Army a must-visit booth at IWA, expect more coverage next month.
Until then, what's your thoughts on the AAP-01 Assassin? Can you see yourself running it as a primary? Leave your comments below.
Image Credits: WMASG, Hyperdouraku and Action-Army.